How to Make a Winning Offer on a Home



Today's homebuyers are faced with a strong sellers' market, which means there are a lot of active buyers competing for a relatively low number of available homes. As a result, it's essential to understand how to make a confident and competitive offer on your dream home. Here are five tips for success in this critical stage of the homebuying process.
1. Listen to Your Real Estate Advisor
An article from Freddie Mac gives direction on making an offer on a home. From the start, it emphasizes how trusted professionals can help you stay focused on the most important things, especially at times when this process can get emotional for buyers:
"Remember to let your homebuying team guide you on your journey, not your emotions. Their support and expertise will keep you from compromising on your must-haves and future financial stability."
A real estate professional should be the expert guide you lean on for advice when you're ready to make an offer.
2. Understand Your Finances
Having a complete understanding of your budget and how much house you can afford is essential. The best way to know this is to get pre-approved for a loan early in the homebuying process. Only 44% of today's prospective homebuyers are planning to apply for pre-approval, so be sure to take this step so you stand out from the crowd. Doing so make it clear to sellers you're a serious and qualified buyer, and it can give you a competitive edge in a bidding war.
3. Be Prepared to Move Quickly
According to the latest Realtors Confidence Index from the National Association of Realtors (NAR), the average property sold today receives 3.7 offers and is on the market for just 21 days. These are both results of today's competitive market, showing how important it is to stay agile and alert in your search. As soon as you find the right home for your needs, be prepared to submit an offer as quickly as possible.
4. Make a Fair Offer
It's only natural to want the best deal you can get on a home. However, Freddie Mac also warns that submitting an offer that's too low can lead sellers to doubt how serious you are as a buyer. Don't make an offer that will be tossed out as soon as it's received. The expertise your agent brings to this part of the process will help you stay competitive:
"Your agent will work with you to make an informed offer based on the market value of the home, the condition of the home and recent home sale prices in the area."
5. Stay Flexible in Negotiations
After submitting an offer, the seller may accept it, reject it, or counter it with their own changes. In a competitive market, it's important to stay nimble throughout the negotiation process. You can strengthen your position with an offer that includes flexible move-in dates, a higher price, or minimal contingencies (conditions you set that the seller must meet for the purchase to be finalized). Freddie Mac explains that there are, however, certain contingencies you don't want to forego:
"Resist the temptation to waive the inspection contingency, especially in a hot market or if the home is being sold 'as-is', which means the seller won't pay for repairs. Without an inspection contingency, you could be stuck with a contract on a house you can't afford to fix."
Bottom Line
Today's competitive market makes it more important than ever to make a strong offer on a home. Let's connect to make sure you rise to the top along the way.

You thought the Super Bowl was competitive! Try buying a house! I can help you win!

6 Foundational Benefits of Homeownership Today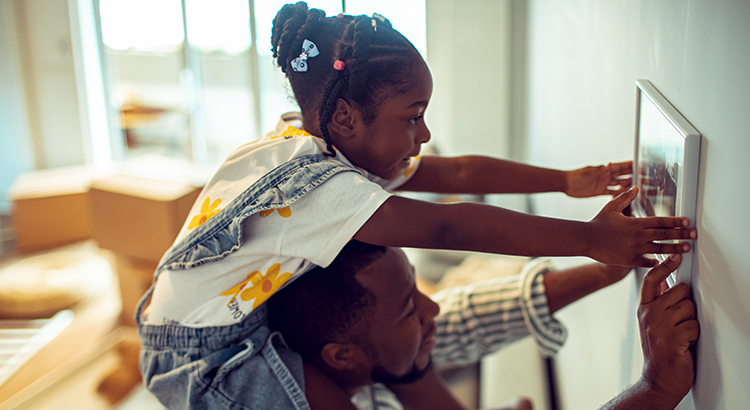 Over the past year, our homes have become an integral part of our lives more than ever. They're much more than the houses we live in. They're our workplaces, virtual schools, and safe havens that provide shelter, stability, and protection through the evolving health crisis. Today, 65.8% of Americans are fortunate enough to call their homes their own.
As we continue to think about the future, our goals for the year, and what we want to achieve well beyond 2021, it's a great time to look at the benefits of owning a home. Below are some highlights and quotes on the benefits of homeownership shared by the National Association of Realtors (NAR). From feel-good motivations to economic and social impacts on the local community, these items may give you reason to believe homeownership stretches well beyond your financial investment.
Non-Financial Benefits
Owning a home brings a sense of happiness, satisfaction, and pride.
Pride of Ownership: It feels good to have a place that's truly your own, especially since you can customize it to your liking. "The personal satisfaction and sense of accomplishment achieved through homeownership can enhance psychological health, happiness and well-being for homeowners and those around them."
Civic Participation: Homeownership creates stability, a sense of community, and increases civic engagement. It's a way to add to the strength of your local area and drive value into your neighborhood.
Financial Benefits
Buying a home is also an investment in your financial future.
Net Worth: Homeownership builds your net worth. Today, the median household net worth of all homeowners is $254,900, while the median net worth of renters is only $6,270.
Financial Security: Equity, appreciation, and more predictable monthly housing expenses are huge financial benefits of owning a home. Homeownership is truly the best way to improve your long-term financial position.
Economic Benefits
Homeownership is even a local economic driver.
Housing-Related Spending: An economic force throughout our nation, housing-related expenses accounted for more than one-sixth of the country's economic activity over the past three decades.
Entrepreneurship: Homeownership is also a form of forced savings that can provide entrepreneurial opportunities. "Owning a home enables new entrepreneurs to obtain access to credit to start or expand a business and generate new jobs by using their home as collateral for small business loans."
Bottom Line
The benefits of homeownership go well beyond the basics. Homeownership is truly a way to build financial freedom, find greater satisfaction and happiness, and make a substantial impact in your community. If owning a home is part of your dream this year, let's connect so you can begin the homebuying process today.
Why Not to Wait Until Spring to Make a Move



The housing market recovery coming into the new year has been nothing short of remarkable. Many experts agree the turnaround from the nation's economic pause is playing out extremely well for real estate, and the current market conditions are truly making this winter an ideal time to make a move. Here's a dive into some of the biggest wins for homebuyers this season.
1. Mortgage Rates Are Historically Low
In 2020, mortgage rates hit all-time lows 16 times. Continued low rates have set buyers up for significant long-term gains. In fact, realtor.com notes:
"Given this means homes could cost potentially tens of thousands less over the lifetime of the loan."
Essentially, it's less expensive to borrow money for a home loan today than it has been in years past. Although mortgage rates are expected to remain relatively low in 2021, even the slightest increase can make a big difference in your payments over the lifetime of a home loan. So, this is a huge opportunity to capitalize on right now before mortgage rates start to rise.
2. Equity Is Growing
According to John Burns Consulting, 58.7% of homes in the U.S. have at least 60% equity, and 42.1% of all homes in this country are mortgage-free, meaning they're owned free and clear.
In addition, CoreLogic notes the average equity homeowners gained since last year is $17,000. That's a tremendous amount of forced savings for homeowners, and an opportunity to use this increasing equity to make a move into a home that fits your changing needs this season.
3. Home Prices Are Appreciating
According to leading experts, home prices are forecasted to continue appreciating. Today, many experts are projecting more moderate home price growth than last year, but still moving in an upward direction through 2021.
Knowing home values are increasing while mortgage rates are so low should help you feel confident that buying a home before prices rise even higher is a strong long-term investment.
4. There Are Not Enough Homes for Sale
With today's low inventory of homes on the market, which is contributing to this home price appreciation, sellers are in the driver's seat. The competition is high among buyers, so homes are selling quickly.
Making a move while so many buyers are looking for homes to purchase may mean your house rises to the top of the buyer pool. Selling your house before more listings come to the market in the traditionally busy spring market might be your best chance to shine.
Bottom Line
If you're considering making a move, this may be your moment, especially with today's low mortgage rates and limited inventory. Let's connect to get you set up for homebuying success in the new year.
The Do's and Don'ts after Applying for a Mortgage



Once you've found the right home and applied for a mortgage, there are some key things to keep in mind before you close. You're undoubtedly excited about the opportunity to decorate your new place, but before you make any large purchases, move your money around, or make any major life changes, consult your lender – someone who is qualified to tell you how your financial decisions may impact your home loan.
Below is a list of things you shouldn't do after applying for a mortgage. They're all important to know – or simply just good reminders – for the process.
1. Don't Deposit Cash into Your Bank Accounts Before Speaking with Your Bank or Lender. Lenders need to source your money, and cash is not easily traceable. Before you deposit any amount of cash into your accounts, discuss the proper way to document your transactions with your loan officer.
2. Don't Make Any Large Purchases Like a New Car or Furniture for Your New Home. New debt comes with new monthly obligations. New obligations create new qualifications. People with new debt have higher debt-to-income ratios. Higher ratios make for riskier loans, and then sometimes qualified borrowers no longer qualify.
3. Don't Co-Sign Other Loans for Anyone. When you co-sign, you're obligated. With that obligation comes higher ratios as well. Even if you promise you won't be the one making the payments, your lender will have to count the payments against you.
4. Don't Change Bank Accounts. Remember, lenders need to source and track your assets. That task is significantly easier when there's consistency among your accounts. Before you transfer any money, speak with your loan officer.
5. Don't Apply for New Credit. It doesn't matter whether it's a new credit card or a new car. When you have your credit report run by organizations in multiple financial channels (mortgage, credit card, auto, etc.), your FICO® score will be impacted. Lower credit scores can determine your interest rate and maybe even your eligibility for approval.
6. Don't Close Any Credit Accounts. Many buyers believe having less available credit makes them less risky and more likely to be approved. Wrong. A major component of your score is your length and depth of credit history (as opposed to just your payment history) and your total usage of credit as a percentage of available credit. Closing accounts has a negative impact on both of those determinants of your score.
Bottom Line
Any blip in income, assets, or credit should be reviewed and executed in a way that ensures your home loan can still be approved. If your job or employment status has changed recently, share that with your lender as well. The best plan is to fully disclose and discuss your intentions with your loan officer before you do anything financial in nature.
Winning as a Buyer in the Minnesota  Sellers' Market!



Some Highlights
Buying a home in today's sellers' market doesn't have to feel like an uphill battle.
Here are four ways to make sure you're positioned for success when making a home purchase, even when the scale tips toward sellers.
Let's connect to make sure you're armed for victory in the housing market this season.
How Technology is Helping Buyers Navigate the Home Search Process 



Some Highlights:
A recent realtor.com survey revealed that buyers are still considering moving forward with the homebuying process, even if they can't see the home in-person.
While they still prefer to physically see a home, virtual home tours and accurate listing information top the list of tech specs buyers find most helpful in today's process.
Let's connect today to determine how technology can help power your home search.
Buying A Home With Covid-19, I Can Help!

Buying a Home: Do You Know the Lingo? 



Highlights:
Buying a home can be intimidating if you're not familiar with the terms used throughout the process.
To point you in the right direction, here's a list of some of the most common language you'll hear along the way.
The best way to ensure your homebuying process is a positive one is to find a real estate professional who will guide you through every aspect of the transaction with 'the heart of a teacher.'
Great News for Renters Who Want to Buy a Home



Rents in the United States have been skyrocketing since 2012. This has caused many renters to face a tremendous burden when juggling their housing expenses and the desire to save for a down payment at the same time. The recent stabilization of rental prices provides a great opportunity for renters to save more of their current income to put toward the purchase of a home.
Just last week the Joint Center of Housing Studies of Harvard University released the America's Rental Housing 2020 Report. The results explain the financial challenges renters are experiencing today,
"Despite slowing demand and the continued strength of new construction, rental markets in the U.S. remain extremely tight. Vacancy rates are at decades-long lows, pushing up rents far faster than incomes. Both the number and share of cost-burdened renters are again on the rise, especially among middle-income households."
According to the most recent Zillow Rent Index, which measures the estimated market-rate rent for all homes and apartments, the typical U.S. rent now stands at $1,600 per month. Here is a graph of how the index's median rent values have climbed over the last eight years: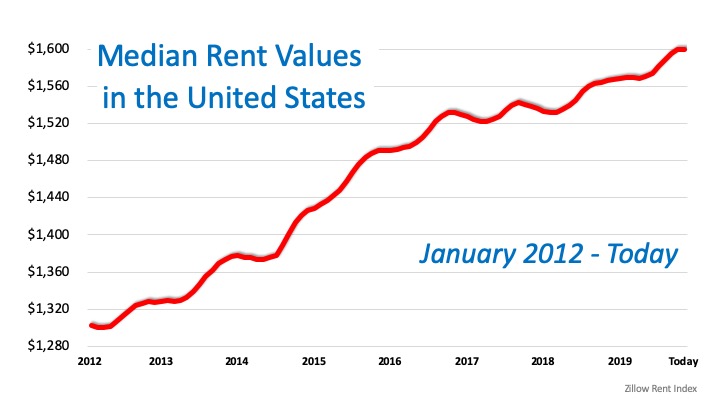 Is Good News Coming?
There seems, however, to be some good news on the horizon. Four of the major rent indices are all reporting that rents are finally beginning to stabilize in all rental categories:
1. The Zillow Rent Index, linked above, only rose 2.6% over the last year.
2. RENTCafé's research team also analyzes rent data across the 260 largest cities in the United States. The data on average rents comes directly from competitively rented, large-scale, multi-family properties (50+ units in size). Their 2019 Year-End Rent Report shows only a 3% increase in rents from last year, the slowest annual rise over the past 17 months.
3. The CoreLogic Single Family Rent Index reports on single-family only rental listing data in the Multiple Listing Service. Their latest index shows how overall year-over-year rent price increases have slowed since February 2016, when they peaked at 4.2%. They have stabilized around 3% since early 2019.
4. The Apartment List National Rent Report uses median rent statistics for recent movers taken from the Census Bureau American Community Survey. The 2020 report reveals that the year-over-year growth rate of 1.6% matches the rate at this time last year; it is just ahead of the 1.5% rate from January 2016. They also explain how "the past five years also saw stretches of notably faster rent growth. Year-over-year rent growth stood at 2.6% in January 2018, and in January 2016 it was 3.3%, more than double the current rate."
It seems tenants are getting a breather from the rapid rent increases that have plagued them for almost a decade.
Bottom Line
Rental expenses are beginning to moderate, and at the same time, average wages are increasing. That power combination may allow renters who dream of buying a home of their own an opportunity to save more money to put toward a down payment. That's sensational news!
Minnesota Buyers Are Looking For Your Home 



Some Highlights:
Existing Home Sales are currently at an annual pace of 5.46 million.
The inventory of existing homes for sale remains below the 6 months needed for a normal market and is now at a 3.9-month supply.
Inventory remains low due to high demand from buyers who are still looking for a house to buy!
Buying a home can be SCARY…Until you know the FACTS 



Some Highlights:
Many potential homebuyers believe they need a 20% down payment and a 780 FICO® score to qualify to buy a home. This stops many people from even trying to jump into homeownership! Here are some facts to help take the fear out of the process:
71% of buyers who purchased homes have put down less than 20%.
78.1% of loan applications were approved last month.
In September, the average credit score for approved loans was 737.
What Is the Cost of Waiting Until Next Year to Buy?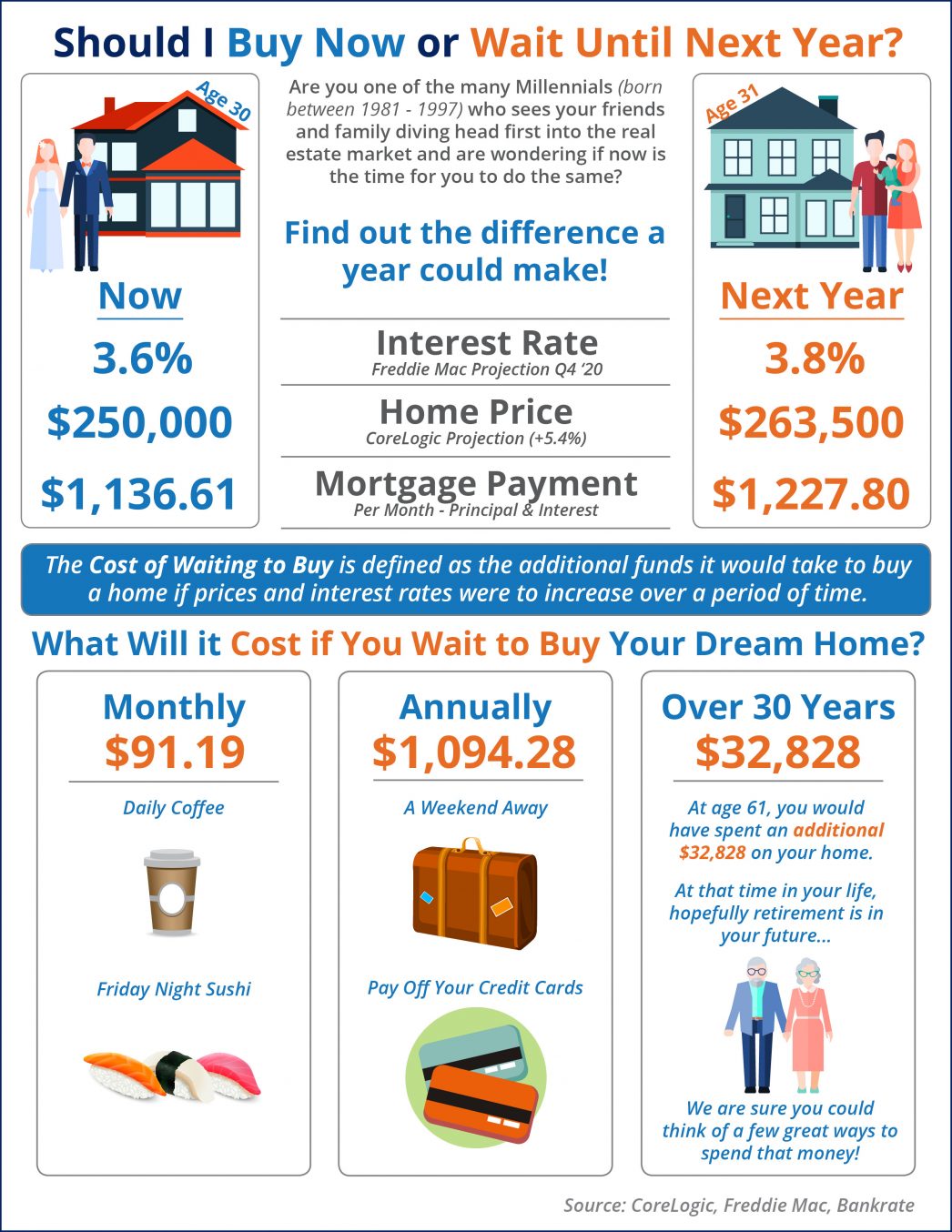 Some Highlights:
The "cost of waiting to buy" is defined as the additional funds necessary to buy a home if prices and interest rates were to increase over a period of time.
Freddie Mac forecasts interest rates will rise to 3.8% by Q4 2020.
CoreLogic predicts home prices will appreciate by 5.4% over the next 12 months.
If you're ready and willing to buy your dream home, now is a great time to buy.
10 Steps to Buying a Home This Summer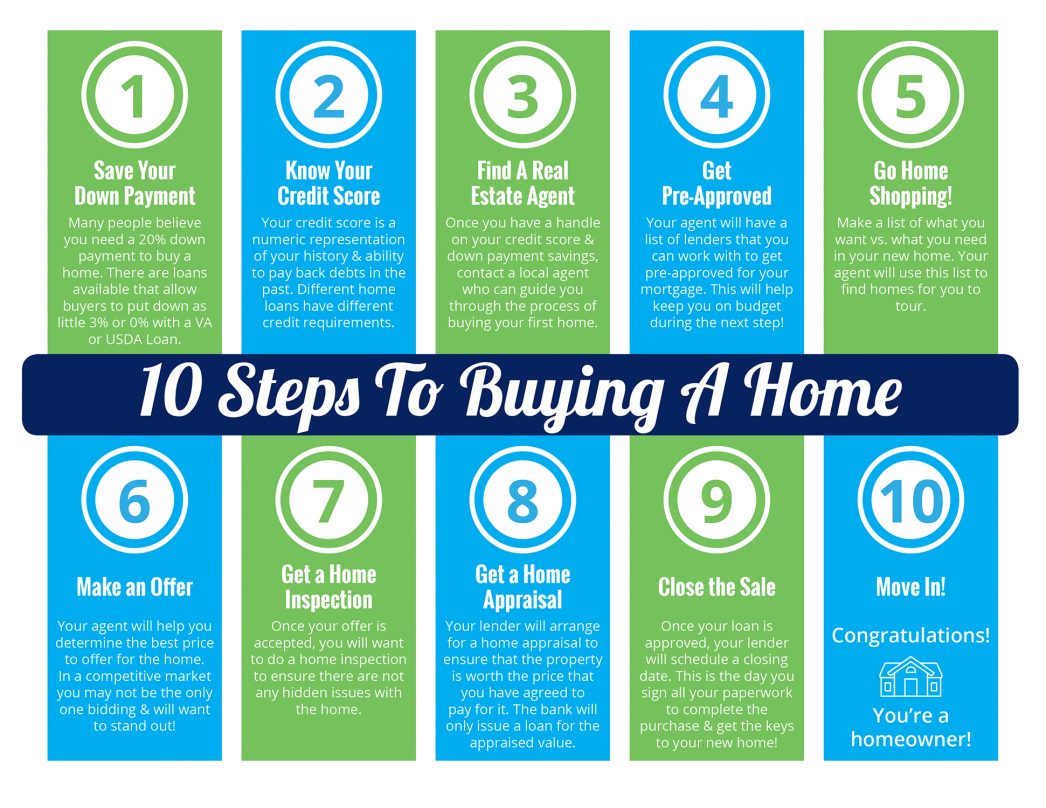 Some Highlights:
If you are thinking of buying a home, you may not know where to start.
Here is a simple list of 10 steps that you will go through to purchase a home.
Make sure to ask your agent for details about each step and what else may be required in your area!
Buying a Home with Valerie Rydland
Valerie will take care of
all your home buying needs. From researching
communities to showing you available
properties to negotiating on your behalf, Valerie will
be with you every step of the way.
When searching for your dream home, Valerie can
provide detailed information on almost any
property currently listed for sale - whether it's
listed by Coldwell Banker Burnet or another
real estate company. Valerie will always give you
her utmost attention — the attention you
want, the attention you deserve. Simply stated,
with Valerie Rydland you receive
the ultimate result - a successful real estate
experience.
Valerie is committed to her buyers!
Valerie will provide the following services to assist
you in your home search and purchase process:

• Buyer Counseling Session. Valerie will conduct a
buyer counseling session to discuss your needs
and goals, and to plan your property search.

• Buyer Agency Alternatives. Valerie will discuss
agency alternatives for you and the sellers.

• Buyer Representation Agreement. Valerie will
present and explain the representation
agreement and the benefits it offers.

• Buyer's Package. Valerie will provide you with the
pertinent information you will need during the
buying process.

• Financing Qualification. Valerie will offer to arrange
to have you preapproved with recommended mortgage services.

• Coldwell Banker Burnet Sales Associates.
Valerie will present your property search criteria to
the Coldwell Banker Burnet sales associates.
The goal is to present you with properties as
they debut or before they appear on the open
market.

• Property Showing. Valerie will show you properties
that meet the criteria you have selected.

• Property Evaluation. Valerie will discuss the positive
and negative features of a property that may
affect its value and future resale.

• Property Disclosure. Valerie will review with you
all inspection reports and other documents
pertaining to the condition of the property and
disclose all physical defects of the property that
are known to us.

• Review of Written Seller Disclosure. Valerie will
thoroughly review with you the seller's written
disclosure statement to enable you to accept or
specify the remedy for each fault disclosed.

• Appraisal Contingency. Valerie will explain to you
the option of an appraisal contingency.

• Home Warranty. Valerie will explain to you the
option of a home warranty plan to reduce your
risk of repair when purchasing a property.

• Home Inspections. Valerie will recommend that you
obtain a professional home inspection.

• Home Inspection Remedies. Valerie will work with
you to request the seller remedy the items you
specify.

• Estimate of Funds Required. Valerie will provide
you with an approximate preliminary estimate
of closing costs and down payment requirement
anticipated in the transaction.

• Offer Preparation. Valerie will prepare a written
offer on the property you choose to purchase,
with terms approved by you.

• Negotiation Strategy. Valerie will prepare a
negotiation strategy for the property you have
selected.

• Offer Presentation. Valerie will present your
purchase offer in the most favorable light
possible.

• Walk-Through. Valerie will accompany you on a
thorough walk-through of the property (if one
is provided for in the sales contract) before
closing.

• Closing the Sale. Valerie will monitor and inform
you of the progress of the purchase agreement.

• After-Sale Service. Valerie  will contact you after the
closing to follow up on remaining details or
service needs.

• Service Satisfaction Survey. Valerie will provide
you with a confidential opportunity to give an
evaluation of our services.